Tapering has begun
Today (Thursday) was a rest day. The first in a while, and, contrasting with the last few, not directly before or after a race. I suffered on the hard run on Friday with 6x6 min tempo, died somewhere in Thurgau on Saturday morning's long ride, passed with colors the 6x6 min on the aerobars on Sunday, and breezed through the 4x3 km on the track on Tuesday. (A few swims completed the last training block, but Ironmen don't really talk about swimming, right?) After a few easier trainings yesterday, the tapering has now really begun. It leaves you with that odd feeling of being tired, feeling the legs recover slowly from the accumulated charge, as well as another voice in the head hinting that you should have done more. But, with Frankfurt Ironman coming in 10 days, how much did I really do?
The numbers
If I were to put the 170 days of 2019 elapsed by now, it would look like this: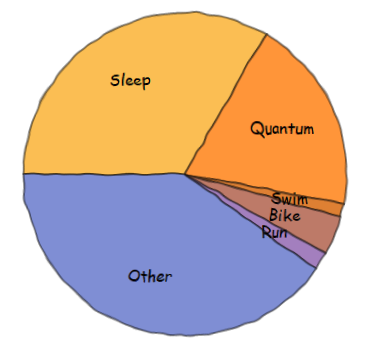 My (rough) hours repartition of 2019.
Now we're not here to talk Quantum Physics (nor my 8-hours-a-day sleep quality), so let's zoom in the triathlon numbers:
2019 stats
|   | Swim | Bike | Run | Other | Total |
| --- | --- | --- | --- | --- | --- |
| Nb training | 71 | 81 | 80 | 21 | 253 |
| /week | 2.8 | 3.2 | 3.2 | 0.8 | 10.1 |
| Moving time | 55h04 | 159h56 | 76h39 | 14h06 | 305h47 |
| /week | 2h12 | 6h23 | 3h03 | 33' | 12h13 |
| Distance | 207.3 | 3904.4 | 994.2 | 77.3 | 5183.3 |
| /week | 8.3 | 156.2 | 39.8 | 3.1 | 207.3 |
12 hours a week is probably on the low side if you were to ask anyone for an Ironman training plan. Let alone starting as a PRO. But that's as much as I can put with other commitments. Compared to other years, it fits in quite nicely with the last 4 years since we moved to Zürich (except bike mileage in 2016, which was surprisingly low). As for my debut in Frankfurt 2 years ago, as well as in Zürich, I get just over 4'000km on the bike in before the start of the race, or per week about half of the 300 km that Ironman suggests to "bring all athletes over the finish line safely (not guaranteed)". Well I'm hoping to do better than merely that…
What awaits
Frankfurt being historically always European Championships means you can only await a massively deep PRO field at the start on the shore of the Langener Waldsee. And a quick look at the first part of the 59 registered doesn't disappoint: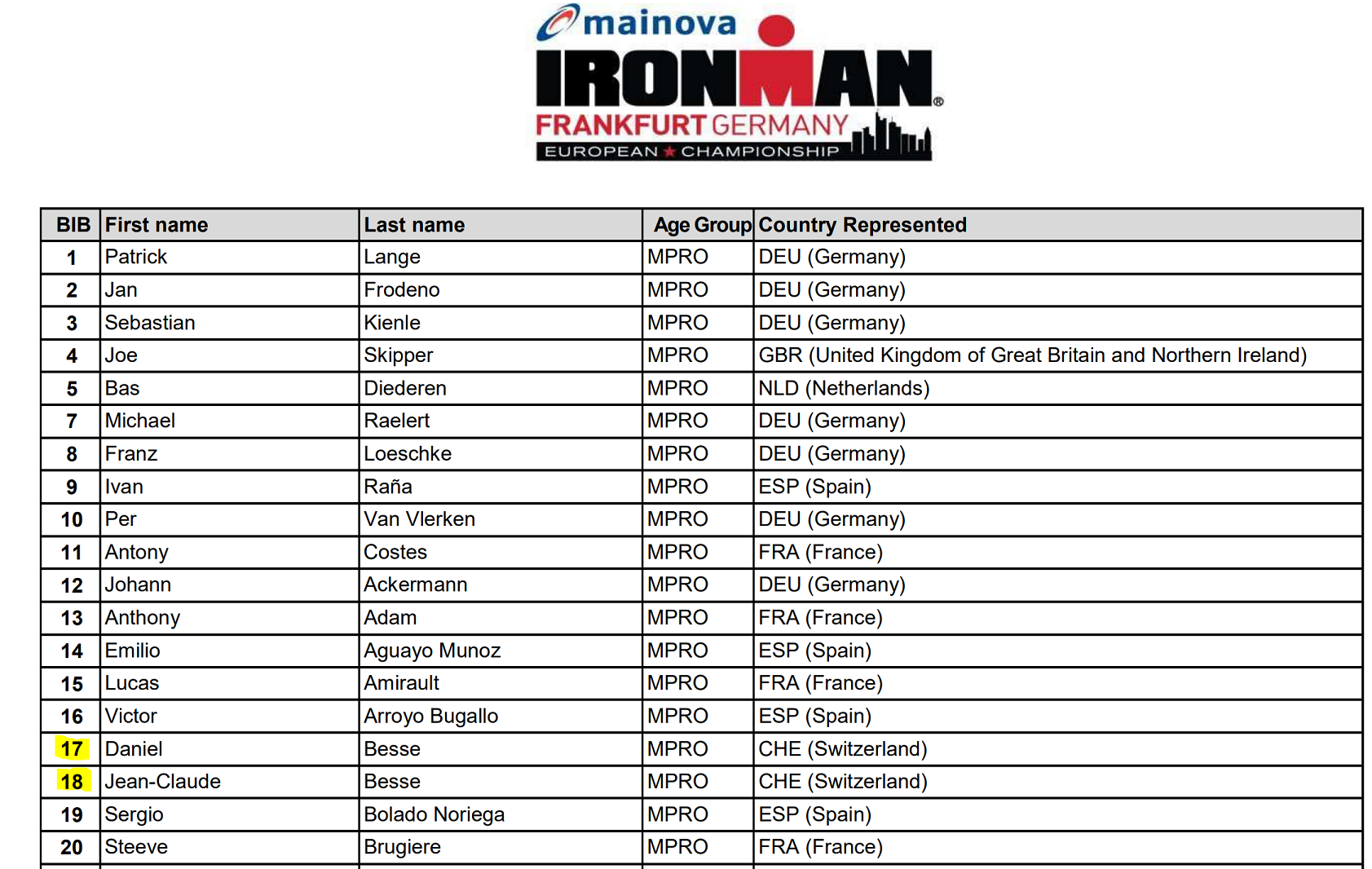 Nice starting list you got there!
Having our name next to the 1-2-3 German combo, that represents all Kona victories in the last 5 years, is simply an honor.
Of course, in ten days, when the gun will go off, the race won't be any different. Except that there will be this special electric feeling so particular of Frankfurt, getting to line up many of the best athletes against each other. There in the pack I will be, and I look forward to that moment. The current tapering will stretch off slowly for another week, some of it while avoiding carbo-hydrates, a later portion just gorging on as much as possible. The travel to Frankfurt, the briefing, the check-in, will all be moments reminding you that you're in this. And then you get "placed" in the hands of the speaker. The gun going off is really a relief. You are simply starting for a "long day in the office", one where (hopefully) you can show all the efforts of the year (and before). Just picking up the pay-offs. It's always hard to think about it that way, but so helpful. Because going full distance is not about what has to be done on D-day, but during all the lead up to the start line.
This is now done. Almost nothing will change in my fitness in the next couple of days. I just need to be clever, and do the job.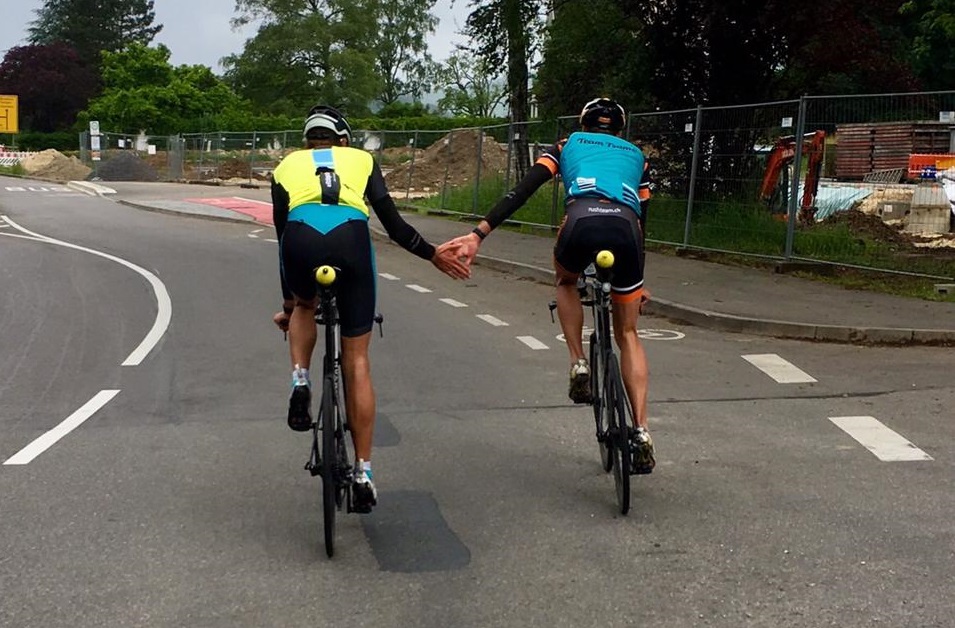 Thank you, best training partner!
The race
A little preview, based on my memories of 2017:
Before sunrise, we will sit silent at a last real meal for the day (or maybe for a couple), already mentally in the race. Take the shuttle to the lake and T1, worry about forgetting something, what if xy goes wrong?, check anxiously whether the bikes survived the night (as if all of the other days they can but not now), put on the swimskin (likely, the water temperature being too warm for PROs already to wear a wetsuit - the heat wave of 32-34 C announced for next week likely confirming that), and sorta waiting for the start without needing much warm up.
Once the start is given, it's a first few hundreds a bit too fast (can't really avoid, those PROs are so fast I sometimes feel last in the water), before settling in the right pace. While Daniel will likely hang on to the leading group, it is rather unrealistic for me (I maybe could, but the huge extra effort is probably not worth it). There is an Australian exit after about one third of the way, where suddenly there is noise, familiar voices, and a blood rush to the legs again. Gets you out of the steady-pace, but I like it. You feel in the middle of something big ; a quick look back shows close to 3k people in that lake. I just hope there will be a fast-ish second group I can tag along, instead of making my own pace as in Barcelona and Rapperswil. That would help drafting a bit, and orienting with other people. Potentially fast women may catch me at this point?
Once out of the water the second time, and onto the bike after a sandy climb, it's a fast stretch on a semi-highway towards the city center. Men PROs exiting the water with me always start way too fast for me (and trust me, I've tried on 70.3, 300 W is clearly not enough). My Ironman tempo will be close to the last Barcelona race (242 W avg, 254 W NP), maybe just slightly more aggressive. Climbs controlled, they are relatively short and not super steep. Hydrate more and eat better is something I try to remind myself every time (and still fail here and there). Two loops, with extra detour where the 2017 course used to take it short, adding up to 185 km (instead of 176 km back then). It will be tricky to beat my time, but I believe my position is much better now. Just trust the training process. In case of down times, or doubts, eat!
Once off the bike, which I often look forward to, it's time to run. Not too fast, just a steady slower-than-the-easy-3k on track this week, yet somewhat hard after tens of kilometers. That's the fine line to aim for, which should stay at around 4'05-4'15 /km if all goes well. Heat management potentially, the marathon being run in the warmest hours of the day. 4 loops, lots of people around, much more time and occasions to see our beloved supporters. The finish line getting closer. Trying to enjoy, or make it shorter to get it over with. Whatever brings you over the line. Fingers crossed, I'm excited!
←Strava: Ready to start tapering
Strava: Big easy endurance crew→